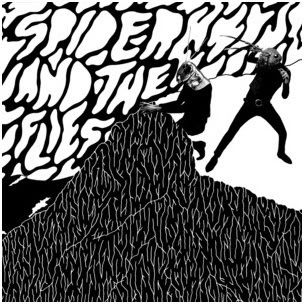 SPIDER AND THE FLIES
SOMETHING CLOCKWORK THIS WAY COMES (MUTE IRREGULARS)


What happens when you take two young men best known for their lurid garage punk, bowl-cuts, and enormous record collections, introduce them to the man responsible for songs called 'Metal Fingers In My Body' and 'Lick A Battery', and put them all in a room full of analogue synthesizers? It could have been a catastrophe, but Spider and the Flies have sidestepped the snares in two ways: firstly, they've got the variety that comes from touching base with electronic pioneers from Delia Derbyshire to Giorgio Moroder, meaning that Something Clockwork This Way Comes avoids the trap of repetitiveness; secondly, there's the charming conceit which projects Tom Cowan and Rhys Webb into a sonic sci-fi universe.
Musically, the controls are set to paradox. There's an emphasis on atmosphere: 'Million Volt Light' is a throbbing surge-and-meander soundscape which resembles old-school Doctor Who incidental music, while 'Space Walking' does what it says on the tin with a drifting Kraftwerk lilt. 'Desmond Leslie', meanwhile, is a discordant noise collapse which gradually crescendos into a synthesised blast-off. On the other hand, this isn't as esoteric an exercise as it could well have been: 'Autochrome' mingles acid house and italo disco with Kraftwerk (again) into an instantly danceable standout track, while 2007's single 'Metallurge' is a hook-laden Radiophonic bop.
The triumph of the whole release is that the atmospheric and the melodic are balanced skilfully enough that neither is overbearing: in 'Jungle Planet', a rhythmic jaunt through robotic wildlife is rudely interrupted by a seductively distorted synth line, while 'Teslabeat''s delicate arpeggios find their home among dissonant rasps. Whether Something Clockwork This Way Comes is a signpost to the sound of the forthcoming Horrors album is yet to be seen, but Messrs Webb & Cowan can rest assured that they've created a rare beast: a genuinely interesting side project.